RSHT Chimney and Fireplace Fan

The RSHT Chimney Fan is a high temperature exhaust fan used to maintain proper draft in a solid fuel chimney or stack system.

Typical uses include venting of wood burning fireplaces, BBQ's, pizza ovens and stoves.

The RSHT Fan should be installed at the termination point of the chimney or stack section. The fan assures a negative pressure is maintained in the entire chimney or stack system. The fan discharges horizontally at a high velocity. The fan housing is hinged and the top can be opened for easy service and access to stack.
Stainless steel housing
and axial vane.
Pictures show galvanized shipping bracket attached at bottom of fan base.


Bracket must be removed prior to installation.

Split motor shaft to
handle 1000+ degrees***
| | |
| --- | --- |
| Fan Model | Part Number |
| RSHT 009 | 102.0299.1200 |
| RSHT 012 | 102.0499.1200 |
| RSHT 014 | 102.0699.1200 |
| RSHT 016 | 102.0899.1200 |

Quick Facts:

Quiet Operation
Two year factory warranty; 10 year corrosion perforation warranty
Split capacitor, totally enclosed. Class F insulated, IP54 Protection Class. Sealed ball bearings. Variable Speed. Thermal overload protection.
Easy, no-mess installation
Use for wood, pellet or coal appliances
The compact design of the fan makes it barely visible from ground level. However, the fan may be recessed or hidden behind chimney top enclosure such as copper caps, shrouds, cupolas, etc.
Available in four sizes.
---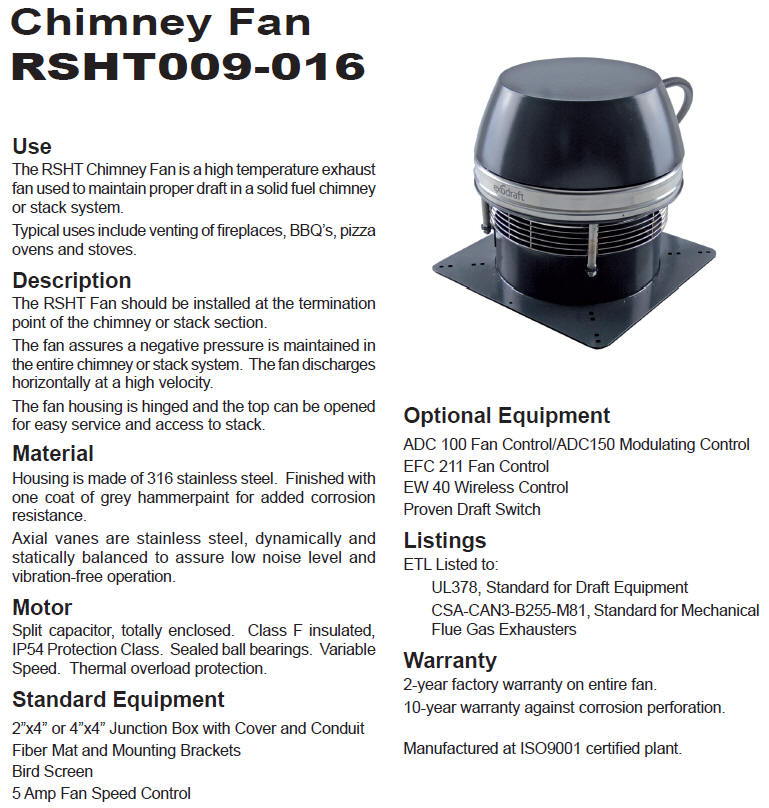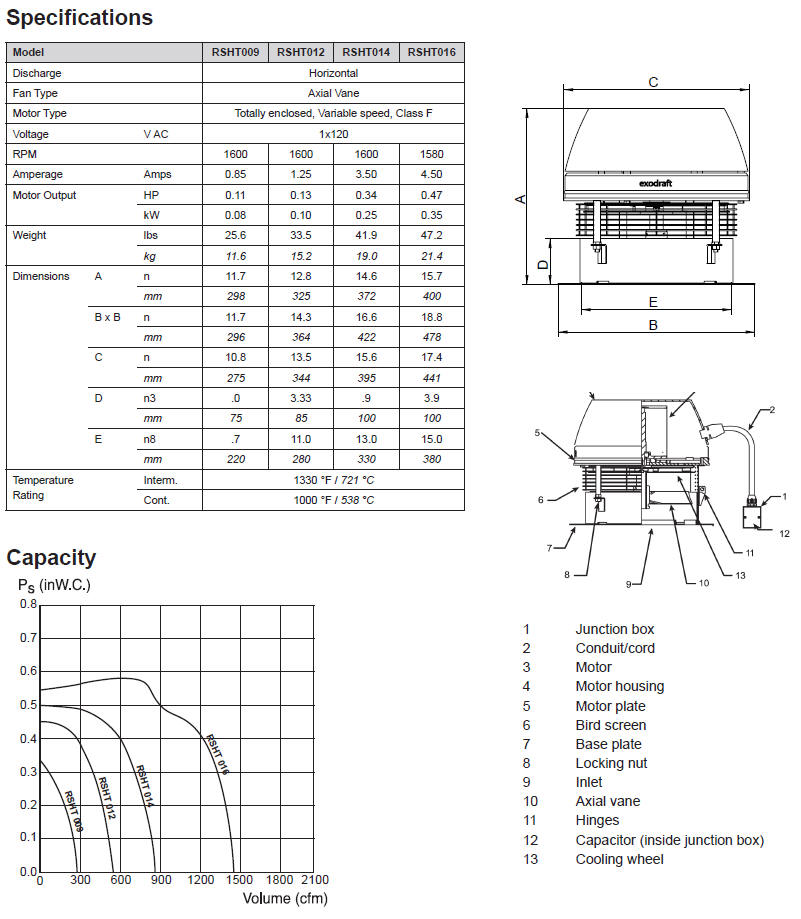 ---
---
---
Enervex?... but my new fan says Exodraft.
Exhausto is now Exodraft, distributed as Enervex. Read More...
Enervex Fans... draft solutions for kitchen and pizza oven exhaust.
Please call 800 685 8263 or email us (info@volko.com) for prices
---
---
Fan Controls
Draft Switches
EcoDamper
System
Downloadable PDF's
Product Literature
Motors - Impellers
Capacitors
Maintenance from
Oven Deck to Fan
Enervex Fan Source
CONTROLS
MFD - FDDS
LIBRARY
PARTS
FAN FAIL
HOME
---